Jody grew up in Oxford, MS, a small town that a young girl was ready to move from. In her early twenties she moved to Jackson, TN and loved it. Then, she got a great job offer to transfer to Fort Lauderdale, FL. Jody lived there with her 19 year old cat, Fats (RIP). He was named after Fats Domino!
Next, she got a great job offer to relocate to St. Simmons Island, Georgia. There she was able to watch the dolphins play. Out of the blue, Jackson called asking her to come back to work. Jody knew that was where she belonged!
Lucky Jody met the man of her dreams, Brad, who she married in 2012. They've added to their family of furry friends: Isabella, who is a 4 year old Boxer and Oliver, who is a very bad cat. Jody has been a vegetarian for 24 years and loves trying out new dishes. She enjoys hanging out by the pool all summer and working out at the gym.
She knows now that she's found her "Happy Place!!"
Jody's Fun Facts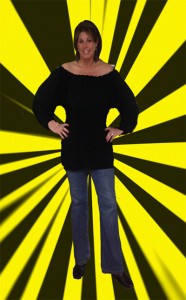 Hometown: Oxford, Ms.
Favorite Food: Anything without meat
Favorite Color: Silver
Favorite Ice Cream Flavor: Daquri Ice Cream from Baskin Robbins
Favorite Movie: Wuthering Heights
Favorite time of year: Summer by the pool
Favorite TV show: The Tudors
Favorite Song playing now: Zebra- Tell me what you want
Favorite Artist/Band: Steely Dan
Favorite Sports team: I know nothing about sports
What is in your CD player now? Zebra
Hobby: Collecting Seashells & Lighthouses
What do you do in your free time? Having Martinis by the pool
Quote to live by: The truth is, everyone is going to hurt you…you just got to find the ones worth suffering for-Bob Marley
Worst job you ever had: It's a toss between popping popcorn at a movie theatre and working at a OBGYN clinic!
Most embarrassing moment: Falling thru a porch and not being able to get out!
One thing that you would HAVE to have if you were stranded on a desert island: Flavored lip gloss
If you could have lunch with one person (living or dead) who would it be? Grandmother – So I could ask her if she's seen all the things that I've done in my life. (you know the bad stuff)